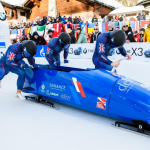 Summary
Team GB's number 1 bobsleigh team targeting the podium at the 2022 Beijing Winter Olympic Games
Description
Team Bobsleigh Brad is the number one bobsleigh team in Great Britain who live and train in Germany (Berchtesgaden). After the 2019/2020 IBSF World Cup Season came to a close, Team Bobsleigh Brad finished the season with a multitude of medals, top 10 finishes and a global ranking of 6th place. It was a huge success, and was only possible because of the immensely strong bond of our crew, the never-say-die attitude of our pilot, and our unbelievably supportive family of private sponsors. It has certainly not been an easy journey.
Our Journey in Short:
In 2019 our team was cut from UK Sport government funding after we couldn't win a medal at the 2019 World Championships in Whistler. We finished 4th, which wasn't good enough. This left us in the position to either give up the sport we love or try to completely self fund and self-govern our own program. We decided we would never give up!
From here we believed that, if we just had the right support, we could channel that funding where it was needed most, supporting the athletes with basic living costs, and primarily, investing in world-class kit. And that exactly what happened. In our first self funded season we finished the World 2-man ranking in 6th with only completing 6 out of the 8 World Cup races. We also came away with a silver medal at the World Cup in Igls which was the first 2-man World Cup medal for Great Britain for over 50 years.
We are now in a unique phase of our history where we have no official funding or support from anyone apart from private sponsors and donors. This means we have unprecedented control and autonomy over the packages we can offer with our amazing sponsors that no other bobsleigh team can offer. We are absolutely on track for Olympic medal success in 2022 and now is the best time for a company to get involved with us.
Our sponsors are absolutely, inextricably linked to our success but we need more support to keep us fighting for the podium next season.
7 Things we can offer:
Most importantly, we offer prime real-estate on our sleds, racing and training kit. We are currently featured in global media,. After our silver medal success, our current partners had their logos front and centre on the global coverage we received.
Our athlete have a mixture of backgrounds in tech start-ups, engineering and more. We have more creative marketing nous than you might realise and would relish planning out-of-the-box initiatives to help enrich us all.
Having experienced delivery under pressure on an enormous scale, we offer a unique opportunity for motivational and other business talks including: the importance of self-doubt, overcoming fear and how to persevere to success against all the odds
World Cup hospitality. Come watch us compete at the top level and witness high-octane action and edge of your seat racing at speeds of up to 98 mph. Meet the athletes and enjoy the process of what it takes to be in top shape on race day
We can offer your business and lucky staff members once-in-a-lifetime on-ice excitement. Sit in the back of a 4-man bob and feel speeds of up to 80 mph and gravitational forces only fighter pilots experience.
Come and train with us. Experience our push track facility and get put through your paces with one of our speed and power gym sessions
We would wish to work with your company to discuss your marketing objectives, your budget and where sponsorship of an elite Olympic team can benefit your business with tangible, financial return
From myself and the team we thank you for reading our sponsorship proposal and we would love to represent you. Please get in touch to discuss how we can best suit your needs.
Brad Hall OLY
Team Bobsleigh Brad
Sponsorship Usage
The sport of bobsleigh is a hugely costly endeavour just like any motor sport. The sleds we drive cost over €100,000 and the runners which are the steel that the sleds slide on can cost over €10,000 so it is easy to understand why we need very supportive sponsors to enable us to compete at the highest level.
For the 2021/2022 Winter Olympics season we are completely self funded and we have to support overselves completely off our own back. The Olympic season alone is budgeted to be in excess of €120,000 and this is not taking into account individually supporting our athletes.
The main use of any sponsorship is to pay for our on season costs to enable us to compete which includes, travel, freighting of equipment, accommodation, training, coaching, physiotherapy and medical and any other cost that we need covered. Our hope is to raise enough so we can then start to support the athletes of the team that sacrifice so much for so little in the hope they can acheive Olympic glory.
Greatest successes
2017 Park City World Cup - 3rd Place (4-man)
2018 Pyeongchang Winter Olympic Games for Team GB
2019 Whistler World Championships - 4th Place (2-man)
2020 Igls World Cup - 2nd Place (2-man)
2020/2021 World Cup Season - 6th overall (2-man - Only 6/8 races competed in)
Key figures for sponsors
2019/2020 Bobsleigh season on German TV:
19 Channels,
372 programs,
18:58:23 broadcasting hours,
338 million audience.
As well as international broadcasting in 63 other countries worldwide.
The 2020/2021 season will consist of 8 World Cup races and will conclude with the 2022 Winter Olympic Games. We compete in both the 2-man and 4-man events where each discipline is shown every weekend.
Our team consists of 6 athletes with a total genuine social media following of 15,000.
Fancybox.bind("[data-fancybox]", { // Your custom options });